Welcome to the
Mobiler

, the world's most successful system for horizontal transhipment of containers and swapbodies The

Mobiler

is a truck-mounted horizontal transhipment unit that can transfer containers from road vehicle to rail wagon just about anywhere and without the need for additional infrastructure. Being affordable, too, the

Mobiler

can be regarded as a key technology to enhance any kind of intermodal transportations.

Introduced 1997 into the swiss market, it proved to be a good mean for the swiss cargo railway company, to gain with the Mobiler-based CARGO DOMINO product new traffic as well as saving existing train-based transports. Also in Austria and Germany Mobiler based logistic solutions have been established. It should be mentioned, too, that the Mobiler is compliant to the goals of the EU traffic policy as far as it aims at the strengthening of rail cargo transport.
MOBILER at RailCargoLogistics
Since 2001 RailCargoLogistics (formerly RailCargoAustria) worked with MOBILER and pushed it to success. The MOBILER has become a strategic field of operation in the intermodal sector of RailCargoLogistics. Its MOBILER cargo processing sites in Austria, Germany, Hungary, Slovenia, Italy, Czech Republic, Slovakia, Switzerland connect to a Europe-wide logistics network (more).
Walter Schwaighofer (right) is the head of the MOBILER-based logistics at RailCargoAustria.
Awards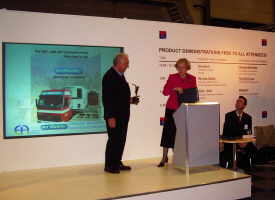 The Mobiler has already gained several awards: In Germany a Mobiler-based logistic project covering the transportation of hazardous goods gained an innovation award for the transport of hazardous goods (left, "Innovationspreis Gefahrgut 2003").

On November 4th, 2003, the Mobiler was announced as the winner of the fourth Annual Intermodal Award at the Intermodal 2003 conference and exhibition in Rotterdam in category 2: Best hard- and software product. Mrs. Hanja Maij Weggen, President of the European Intermodal Association (EIA) and Mr. Mark Major of the European Commission presented the specially-commissioned award to Mr. Wolfgang Bermueller, the "father" of the Mobiler.

[more]